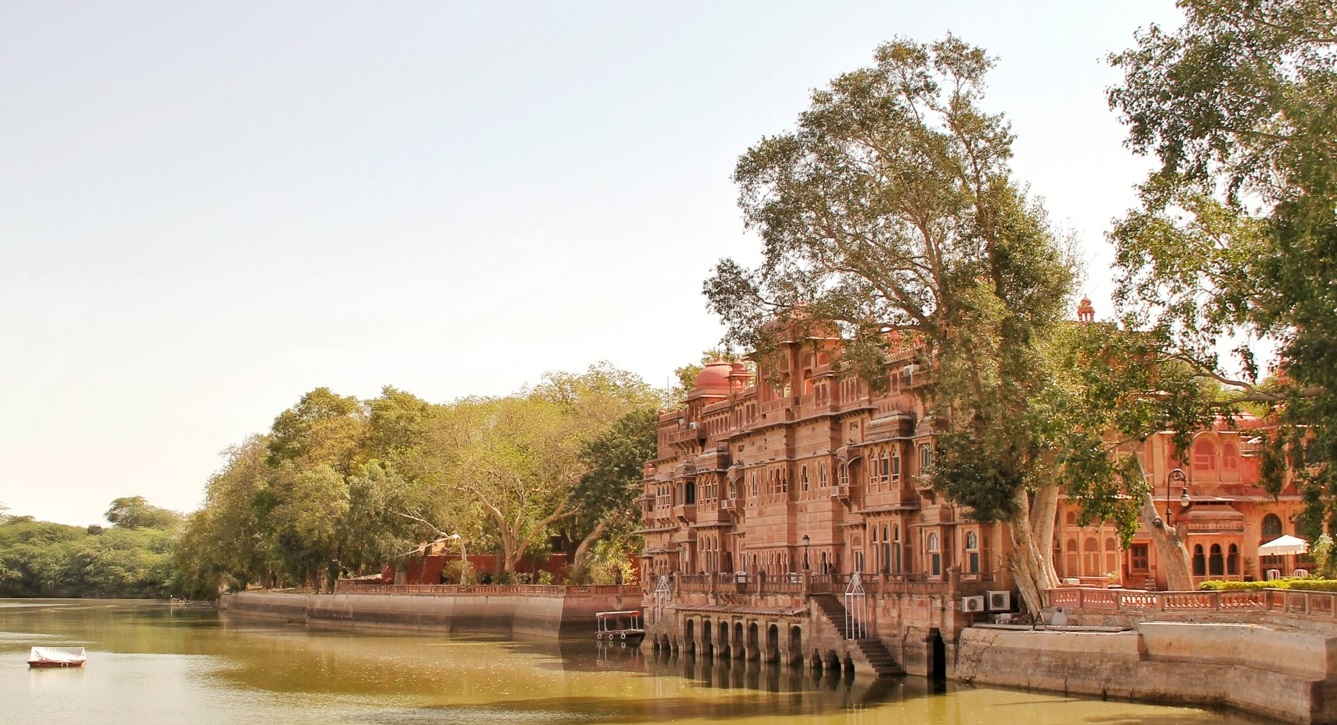 Gajner Palace Hotel – The beautiful lakeside heritage hotel near Bikaner
Overview
Standing majestically along the lakeside, the Gajner Palace is a stunning architectural marvel. Built by Maharaja Sir Ganga Singh of Bikaner, the Gajner Palace was primarily a hunting resort during the days of the British Raj, which was later converted into a heritage hotel.
One can witness a host of animals and birds that come to the lake to drink water, right from the palace itself. The atmosphere is incredibly peaceful, and one can get close to nature while relaxing in the gardens or going for a walk along the lakeside.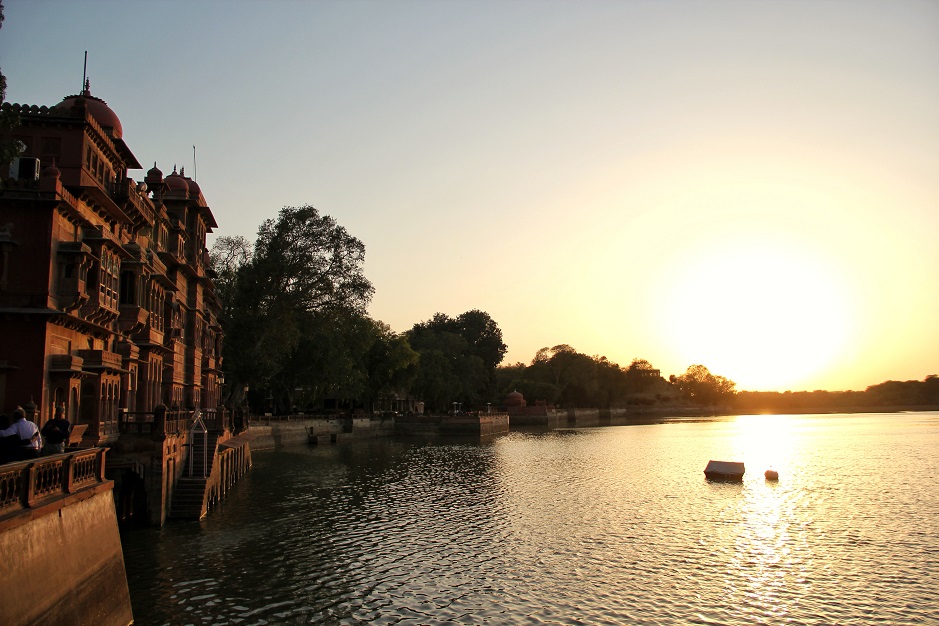 Design and Aesthetics
The Gajner Palace is a splendid example of regal architecture. Its beauty is further enhanced by the lake and the adjoining wildlife sanctuary. The elegant rooms furnished with antique furniture, the terraces and balconies with stunning views, and the beautiful courtyards and gardens make it a truly memorable experience.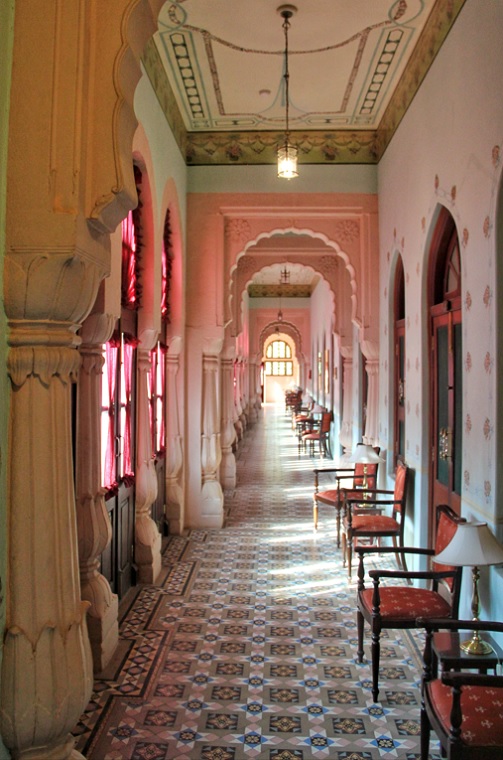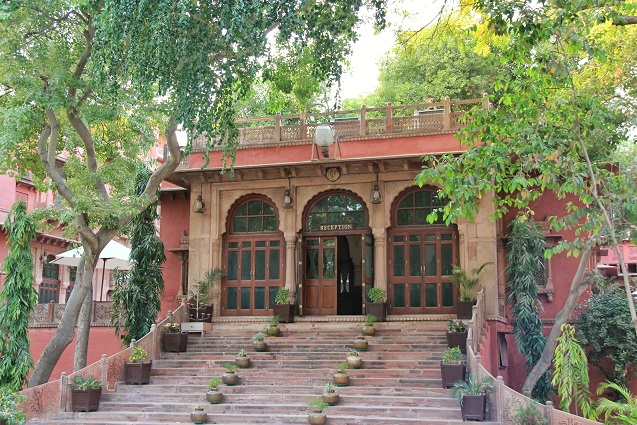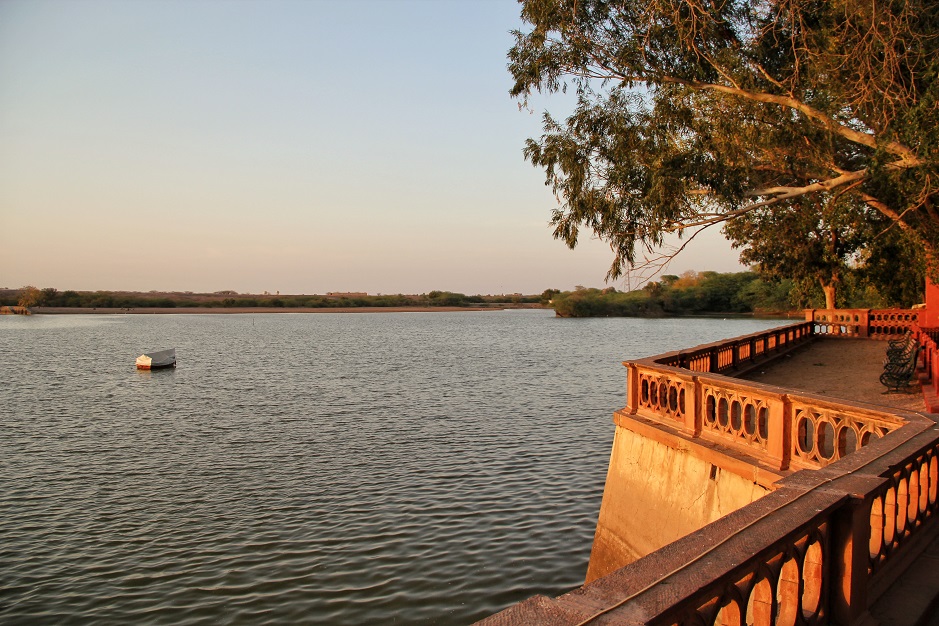 Location
The Gajner Palace is situated about 35 km from Bikaner, around 370 km from Jaipur, and approximately 470 km from New Delhi.
Rooms
Gajner Palace has 13 historic suites carefully restored to their original state, complete with antique furniture and modern conveniences. The palace also offers 32 deluxe rooms.
Food and Drink
The palace features a restaurant named Mirage, which serves Indian, Mughlai, and Continental cuisine. With a terrace overlooking the lake and sanctuary, guests can enjoy folk and tribal dance performances in the evening. The Mrigtrishna bar at the palace is a wonderful place to savour evening cocktails.
Contact Gajner Palace
Address
Gajner Palace, Gajner, Bikaner
P.O. Gajner 334301 , Tehsil: Kolayat
Bikaner, Rajasthan, India
Phone
Toll Free within India
1800 180 2933, 1800 180 2944, +91 294 2528008
Telephone for Hotel
+91 1534 275061-9
+91 1534 275060 Fax
Website
https://hrhhotels.com/hotels/gajner_palace/
Email
reservations.gajnerpalace@hrhhotels.com